A medication like oxymetazoline hydrochloride, marketed as Afrin or Neo-Synephrine -- once available by prescription, but now available without -- provides profound relief as swollen blood vessels in the nasal passages shrink, restricting the painful flow of fluids into the nose and sinuses. But when the effect wears off it makes the patient feel miserable. The vessels dilate to more than their previous diameter, literally becoming engorged; the congestion increases. Thus, these sprays require further use for relief.

Long-term repetition of this cycle makes the nasal blood vessels and tissues look like raw hamburger and is called rhinitis medicamentosa, or "inflammation of the nose secondary to medication." This is not a problem for every child, but it is for teenagers who don't want to talk to their parents about their problems, let alone have Mom or Dad send them to the pediatrician, so they will go to the drugstore and buy a cheap generic version of this stuff.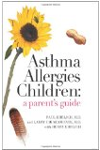 More About this Book
Asthma Allergies Children: A Parent's Guide
Asthma and allergies are at epidemic proportions. It doesn't have to be that way. Two experienced pediatric allergists tell everything a conscientious parent needs to know about these conditions,...
Continue Learning about Nasal Agent