No! This question is far too common. First, as many people know, regular Benadryl (and other antihistamine formulas containing diphenhydramine) acts like a sedative, and any kind of sedation can be dangerous for young children, especially for children under two. In the worst-case scenario, an accidental overdose of diphenhydramine could cause them to stop breathing.
Second, children under age two are more susceptible to the side effects of diphenhydramine, such as rapid heartbeat, dizziness, headaches, blurred vision, seizures, arrhythmias, and toxic psychosis.
Third, the medication may impart the opposite effect of what you're hoping for. Diphenhydramine is used in many drugstore sleeping pills because sedation and drowsiness are common side effects in adults. In children, however, diphenhydramine can act as a stimulant and actually make kids irritable and cranky. Many parents (and nearby air passengers, who are ready to scream themselves) make this unhappy discovery somewhere over the Atlantic.
That pretty much destroys the noble sentiment of "I gave my child Benadryl because I didn't want him to disturb the other passengers."
From The Smart Parent's Guide: Getting Your Kids Through Checkups, Illnesses, and Accidents by Jennifer Trachtenberg.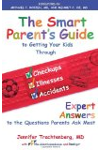 Continue Learning about Nasal Agent