Using music as a tool to help patients manage the grieving process is not a new concept, and scientific studies have shown that patients can benefit from this approach. In 2006, researchers Dalton and Krout published their work on the development and implementation of the Grief Song-Writing Process (GSWP). This study focused on bereaved adolescents and was divided into three parts.

First, the themes and core concerns that emerged in over 100 songs that had been written by adolescents undergoing individual music therapy sessions were analyzed. The authors then compared these themes with existing grieving models and created a new integrated grieving model (derived partly from this musical approach) that included the stages of understanding, feeling, remembering, integrating, and growing. Finally, based on the information above, the researchers created and implemented a seven-session songwriting workshop. The adolescents were asked to write original lyrics and songs based on each of the five stages of grieving that had been identified through the musical inspiration, and greatly benefited from this exercise.

Although this study focused on bereaved adolescents, there is no reason to believe that cancer patients going through the grieving process would not benefit from similar exercises of writing songs.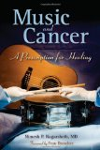 More About this Book
Music And Cancer: A Prescription For Healing
From diagnosis to end-of-life care to the meaning behind life with cancer, Music and Cancer: A Prescription for Healing is designed to improve the quality of life of people affected by cancer in a...
Continue Learning about Music Therapy