Acupressure is used to relieve everyday aches, pains, and stress, as well as specific conditions like sinus pressure, leg cramps, headaches, temporomandibular joint disorder (TMJ), and carpal tunnel syndrome. Acupressure can also be combined with massage to release tension, increase circulation, reduce pain, and develop optimal health.

Many have experienced that using acupressure regularly helps to trigger the relaxation response, a physiological state characterized by a feeling of warmth and quiet mental alertness. Practitioners believe that if you practice it regularly, it may help you to counteract the debilitating effects of stress so your brain waves shift from an alert, beta rhythm to a relaxed, alpha rhythm. Acupressure helps to summon this state because it is "active" touching.

In a study reported in the American Journal of Hypertension, researchers at Maimonides Medical Center in Brooklyn, New York found that acupressure and acupuncture helped to lower blood pressure. While the findings are preliminary, those participants with essential hypertension who underwent 4 weeks of acupressure and acupuncture therapy had lower blood pressure and stress release than patients who were not treated.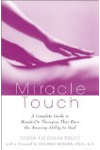 Acupressure is used mainly by Massage Therapists and blended with deeper tissue work to assist you with same issues you would see an acupuncturist for. The only difference is "pressure versus puncturing" skin with a small needle. Along with being used to assist with migraines, muscle issues, structural issues we also use acupressure points in energy medicine to treat emotional and spiritual issues.
Through the use of the meridian system of the body which consists of 14 lines of energy we tap into blockages (similar to a beaver dam) each meridian has an organ related to it. The kidney and liver are two examples of meridians.
EFT (emotional freedom technique) is one form of Energy Psychology that uses acupressure to heal emotional issues and it has had profound impact on treating PTSD (Post traumatic stress disorder). Research continues into the many ways using acupressure can assist you.
http://www.stressproject.org/
Continue Learning about Musculoskeletal Manipulations