Acupressure, a hands-on therapy, is applied with the thumb or index finger at specific "trigger points" on the body. On the physical level, acupressure affects muscular tension, blood circulation, and other physiological parameters. Yet traditional Oriental healing believes that by stimulating these "trigger points," it releases energy or unblocks Qi, resulting in health and healing. On a scientific level, researchers find that both acupressure and acupuncture cause the body to release endorphins and monoamines, chemicals that block pain signals in the spinal cord and the brain. The endorphin system consists of chemicals that regulate the activity of a group of nerve cells in the brain that relax muscles, dull pain, and reduce panic and anxiety. The system can also lower blood pressure and reduce the heart's workload. These ancient touch therapies may also trigger the release of more hormones, including serotonin, a brain chemical that makes you feel calm and serene, as well as the anti-inflammatory chemical known as cortisol. With acupressure, not only are you benefiting from touching the points, but you benefit from being touched with increased circulation and decreased tension.

These points (about 1,500 of them) are all along the meridians. When the practitioner touches one of these points, they refer healing to another part of the body. For example, a point on your second toe is used to treat headaches and toothaches; a point near your elbow helps to boost immune function.

During treatment, each point is held with a steady pressure for one to three minutes, using the tips or balls of the fingers or thumb. If the acupressure point is sensitive or tender, this indicates that the meridian (energy pathway or channel) is blocked. During the treatment, this tenderness should dissipate as the channel becomes unblocked and energy flows freely again.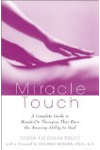 To start, treatment using acupressure is based on the ancient art of using pressure points to align "chakras" in the body, thought to release the body's natural healing powers. According to this theory, the human body contains a life energy (also called chi or qi), which flows through meridians in the body. When this energy is flowing properly, a person can be healthy and the body can heal, but when the energy is not flowing properly, disease--and disturbances like insomnia--can occur. In essence, acupressure aims to "re-flow" the energy to support health.

Now that may sound far-fetched, but there's plenty of science--and lots of anecdotal evidence--to show that whatever acupressure does can actually relieve pain and help treat an array of conditions. Unlike acupuncture, which uses very fine needles, acupressure simply uses physical pressure applied to specific points on the body.

Acupressure is related to the traditional Chinese medicine practice of acupuncture. To find out how it works, watch this video featuring alternative medicine expert Bryce Wylde.
Acupressure is a technique used in acupuncture, where you use your fingertips to massage very specific acupuncture points, which stimulates the point. In this video, acupuncturist Janet Tsai describes how acupressure is performed and it's benefits.
Continue Learning about Musculoskeletal Manipulations