Symptoms of distal muscular dystrophy vary depending on the type of the disease that you have. Most often, voluntary muscles in the hands, forearms, and lower legs are weakened. In some cases, muscles in the neck and heart may also be affected. Generally, people first experience weakness in the muscles farthest away from the body, such as the hands and feet, and over time the weakness spreads in toward the torso, sometimes affecting the upper leg and arm muscles and neck muscles. Weakness may range from very mild to very severe, depending on the type and the individual. Heart muscle weakness may lead to abnormal or weak heart rates. Symptoms often get worse over time, but the progression of distal muscular dystrophy depends on each individual's case. The age at which these symptoms occur also depends on the type of disease. Some diseases affect people as young as 15 years old and progress rapidly, but others won't cause symptoms till later in adulthood.
Continue Learning about Muscular Dystrophy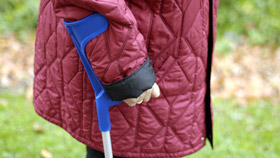 Muscular dystrophy (MD) refers to a group of more than 30 genetic diseases that cause muscle degeneration, progressive weakness and chronic or permanent shortening of tendons and muscles. Treatment focuses on symptom management an...
d can include steroids, physical therapy, breathing support devices and surgery. The prognosis varies according to the type of MD and the speed of progression.
More