Symptoms of limb-girdle muscular dystrophy most often affect voluntary muscles in the shoulders, hips, and thighs, although heart muscles may be affected, depending on the type. Generally, the first symptom that people with limb-girdle muscular dystrophy will notice is muscle weakness that causes trouble walking, resulting in a "waddling" gait and difficulty climbing stairs or getting up from chairs. Shoulder muscle weakness may cause problems doing things like carrying objects or holding the arms above the head. Heart muscle weakness may lead to abnormal or weak heart rates. Symptoms may get worse over time, but the progression of limb-girdle muscular dystrophy depends on each individual's case. The age at which these symptoms occur also depends on the type of disease. Some diseases affect children and progress rapidly, but others won't cause symptoms till adulthood.
Continue Learning about Muscular Dystrophy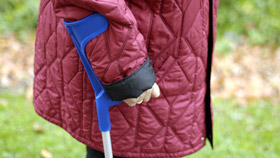 Muscular dystrophy (MD) refers to a group of more than 30 genetic diseases that cause muscle degeneration, progressive weakness and chronic or permanent shortening of tendons and muscles. Treatment focuses on symptom management an...
d can include steroids, physical therapy, breathing support devices and surgery. The prognosis varies according to the type of MD and the speed of progression.
More