Physical and occupational therapies are the most common way of treating distal muscular dystrophy. Physical therapy involves a trained specialist helping you perform certain exercises that increase mobility and strengthen muscles in your arms and legs. These exercises may help improve mobility for people with lower leg weakness. Occupational therapy also involves a specialist assisting in exercises, but the emphasis is on specific activities that will help you in daily life.
Continue Learning about Muscular Dystrophy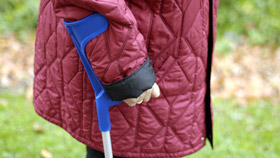 Muscular dystrophy (MD) refers to a group of more than 30 genetic diseases that cause muscle degeneration, progressive weakness and chronic or permanent shortening of tendons and muscles. Treatment focuses on symptom management an...
d can include steroids, physical therapy, breathing support devices and surgery. The prognosis varies according to the type of MD and the speed of progression.
More