You should take Colcrys exactly as directed by your doctor. You can take Colcrys with or without food. The dose of Colcrys depends on your age, how well your liver and kidneys function, other medications you are taking and what medical condition is being treated. It can be taken every day to prevent gout attacks, swelling and pain. It can be taken during a gout attack to relieve pain and swelling.


Continue Learning about Muscoloskeletal Agent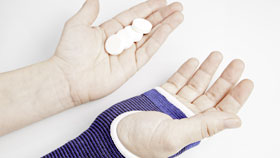 Musculoskeletal drugs relieve pain due to muscular or joint injuries or other musculoskeletal disorders. Learn more about musculoskeletal drugs from our experts.