A number of medications are available to treat multiple sclerosis, each with a specific function. While some reduce inflammation, others target specific symptoms. Here is a list of common medications used to treat multiple sclerosis:
Copaxone (Glatiramer) when injected daily may block attacks against myelin.
Corticosteroids, such as prednisone, work to reduce swelling that occurs during attack periods, or relapses.
Interferons work to slow MS symptoms that can get worse with time.
Novantron is hard on the heart, so usually only those with severe MS use it. Similar to Copaxone, it also protects myelin.
Tysabri aims to stop bad immune cells from reaching your brain or spinal cord. It puts you at risk for serious a brain infection though, so it is generally only used when no other treatments are effective.
None of the disease-modifying drugs are recommended for women who are pregnant or plan to be. Risks are weighed against the benefits of the new treatments. We recommend newly diagnosed patients with evidence of definite multiple sclerosis (MS) start either Copaxone, Betaseron, Avonex or Rebif right away to prevent further attacks and new magnetic resonance imaging (MRI) lesions. This is true also for cases of relapsing-remitting MS in whom attacks are still occurring. Those with deteriorating relapsing-remitting MS not responding to the above agents and those with secondary-progressive disease that is relentlessly worsening should consider Novantrone or Tysabri, in spite of the dangers of these drugs.
We also recommend that people whose disease has been stable for several years—with no attacks and no worsening—can skip this round of treatments and assess the next round of breakthroughs. In the meantime, just follow our suggestions of how to stay in top physical and emotional form.
For the rest, disease-modifying drugs are seen as an investment in the future. Unfortunately, none of the currently available drugs is approved for those with a primary-progressive course. In those cases, the greatest successes in treatment have been the tackling of individual symptoms. With rare exception, every symptom of MS can be treated, and every single patient improved.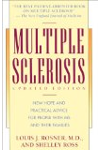 More About this Book
Multiple Sclerosis
Too often, multiple sclerosis is thought of only as "the crippler of young adults." But in fact, 75 percent of all people with MS will never need a wheelchair. In Multiple Sclerosis, Dr. Louis J....
The comprehensive approach to treatment of MS typically includes both a Disease Modifying Therapy (DMT) aimed at preventing relapse and progression of the disease as well as a treatment plan targeted at decreasing the symptoms that a patient may have. Disease Modifying Therapies for multiple sclerosis are currently available in injection, intravenous and oral forms. Symptomatic treatment plans are tailored to each patient's needs and may include referrals to specialists such as urologists, physiatrists and psychiatrists, oral medications, botulinum toxin and emotional, cognitive, physical and occupational therapies.
Medications are available to slow the course of multiple sclerosis (MS). These medications are called disease-modifying therapies (DMTs) or disease-modifying drugs (DMDs) because they slow the progression of multiple sclerosis. These medications have all been proven to benefit multiple sclerosis patients in well-designed large studies.

Though disease-modifying therapies are usually advisable, patients should discuss these therapies with their medical providers to decide whether they wish to use one of these medications.

Disease-modifying therapies are the only medications proven to slow multiple sclerosis. After 20 years, 15% to 20% of untreated patients are in wheelchairs and another 50% need aids to walk. Use of these medications should improve these odds and lessen the disability that develops over time.
There is no cure for multiple sclerosis (MS), but some medications can modify the course of the disease, manage symptoms and treat exacerbations. These drugs include the following:
interferon beta-1b (Betaseron, Extavia)
glatiramer acetate (Copaxone)
mitoxantrone (Novantrone)
natalizumab (Tysabri)
fingolimod (Gilenya)
teriflunomide (Aubagio)
dimethyl fumarate (Tecfidera)
alemtuzumab (Lemtrada)
daclizumab (Zinbryta)
ocrelizumab (Ocrevus)
Steroids such as methylprednisolone often are prescribed to treat acute attacks of MS, whether the person is taking a disease-altering drug or not. These drugs speed the recovery from the acute attack but do not stop disease progression. Long-term use of steroids also has many side effects, including ulcers, weight gain, acne, cataracts, osteoporosis and diabetes.
A process in which the antibodies are filtered from a person's blood called plasmapheresis may be successful, particularly when used in combination with immunosuppressants for short-term treatment of some progressive patients. However, its chronic use is controversial.
For symptom management, health care professionals have an arsenal of medications. For example, baclofen (Lioresal) and tizanidine (Zanaflex) are antispasticity medications often prescribed to relieve muscle spasms, cramping and tightness of muscles in MS patients. Each has varying side effects in varying degrees. A health care professional should be able to find one that provides comfort and relief for almost any symptom.
Botulinum toxin (Botox) also is approved by the Food and Drug Administration (FDA) for treating specific MS symptoms, and a growing number of health care providers now use it as an effective short-term treatment option for certain types of MS-related problems, such as muscle stiffness and urinary problems, when first-line treatment is ineffective.
This content originally appeared on HealthyWomen.org.
Multiple sclerosis (MS) has been categorized into four clinical courses: relapsing-remitting, secondary progressive, primary progressive, and progressive relapsing.
Relapsing-remitting MS (RRMS), which is characterized by clearly defined acute attacks, is the most common form of the disease. Individuals with RRMS benefit most by treatment with the interferon drugs or glatiramer acetate, also known as the ABCR drugs (Avonex, Betaseron, Copaxone and Rebif). Tysabri may be another treatment option.
Secondary progressive MS (SPMS) initially begins with a relapsing-remitting course, that later becomes consistently progressive at a variable rate. Although some of the ABCR drugs, especially the interferons, may help control this more progressive form of MS, chemotherapeutic agents, such as Novantrone, are often the most helpful medications available. Tysabri also may be an option for those still experiencing relapses. Using medication for optimal management of symptoms such as spasticity, fatigue and bladder problems, can significantly improve a person's quality of life.
Primary progressive MS (PPMS) is characterized by progression of disability from the onset, primary progressive MS worsens without any distinct relapses or remissions. There are no known treatments for this form of MS, although some MS experts advocate pulse steroids during the first few years of the disease. Symptom management, however, can be very helpful in maintaining and improving quality of life, as disease progression tends to be slow.
Continue Learning about Multiple Sclerosis Treatment