Currently in the United States, adult stem cells (hematopoietic stem cells, or HSCs) are the only type of stem cell commonly used to treat human diseases. Doctors have been transferring HSCs in bone marrow transplants for over forty years. More advanced techniques of collecting (or "harvesting") HSCs are now routinely used in order to treat leukemia, lymphoma, and several inherited blood disorders. The clinical potential of adult stem cells has also been demonstrated in the treatment of other human diseases that include diabetes and advanced kidney cancer. However, these newer uses have involved studies with a very limited number of patients.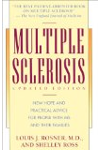 More About this Book
Multiple Sclerosis
Too often, multiple sclerosis is thought of only as "the crippler of young adults." But in fact, 75 percent of all people with MS will never need a wheelchair. In Multiple Sclerosis, Dr. Louis J....
Continue Learning about Multiple Sclerosis Treatment