Medications for spasticity include baclofen, dantrolene, and diazepam. Relatively free of side effects, baclofen (Lioresal) is the best of the antispasticity drugs. Too high a dose may aggravate weakness, but if this is watched carefully, baclofen can be used on a permanent basis to prevent spasticity effectively. The patient should start with half a tablet three times a day, increasing the dose up to two tablets three or four times a day. If weakness is aggravated, the dose is then reduced. Frequently the medication is only needed temporarily. It can be stopped easily to check if spasticity is still present.Dantrolene (Dantrium) is also very effective in relieving spasticity but has more side effects. It has a greater risk of causing weakness and has a slight risk of liver and kidney damage. Therefore it is not the drug of first choice in the treatment of spasticity. But in severe cases and when other drugs fail, the patient and doctor should decide if the problem outweighs the risk.Diazepam (Valium) is a muscle relaxant as well as a tranquilizer and is especially useful if spasticity is a problem at night. Taken at bedtime, the patient doesn't have to worry about the side effect of sleepiness. Smaller doses of Valium should be used in the daytime. Prolonged steady use will create a dependency, and withdrawal symptoms can occur when the drug is removed. It is frequently a depressant and may aggravate balance trouble.Botox (botulinim toxin), best known as the injectible fountain of youth that helps make wrinkles disappear, is now used by many multiple sclerosis (MS) physicians for temporary relief of spasticity. There are seven types of botulinim toxins (A to G). Type A is used for wrinkle relief. Type B is now being used as additional therapy to manage severe stiffness in an isolated area. Botox is believed to block the release of acetylcholine, a chemical that signals muscles to contract. Although oral medications are still the first line of treatment for MS spasticity, Botox is safe and effective and can be repeated as needed.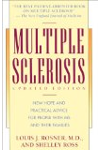 More About this Book
Multiple Sclerosis
Too often, multiple sclerosis is thought of only as "the crippler of young adults." But in fact, 75 percent of all people with MS will never need a wheelchair. In Multiple Sclerosis, Dr. Louis J....
Continue Learning about Multiple Sclerosis Treatment