Many different medications are available for the different types of hand tremors, and each works in different patients. The neurologist usually has a sequence of medications to try.Propranolol (Inderal), a medication for high blood pressure, is a very effective treatment for hand tremors that occur when the hand is held out in a fixed position - often called essential tremor or posture-holding tremor. If the multiple sclerosis (MS) patient's hand tremor falls into this category, this drug may completely relieve it with relatively few minor side effects. The main problem is that too high a dose can cause tiredness, low blood pressure, and slow pulse, and that it cannot be used by patients with asthma.Clonidine, a medication also used for high blood pressure, may be effective when propranolol fails to control posture holding tremor. Clonidine also has more likelihood of controlling head tremor as well as hand tremor. The main drawback is that it can cause too big a drop in blood pressure, producing lightheadedness and even fainting.Primidone (Mysoline), a medication used to treat epileptic seizures, has been effective in some cases of hand tremor when used alone or with propranolol. The side effects include sleepiness, irritability, and nausea if taken on an empty stomach.Clonazepam (Klonopin), is another antiseizure drug that may be effective in controlling hand tremor. Side effects include sleepiness and depression.Amantadine (Symmetrel), originally the antiflu drug, was found to be effective in Parkinson's disease and is now being tried in MS for control of hand tremor. It may also help patients with a lack of energy and an unsteady walk. It is worth trying since it has only a few side effects. When they do occur, they can include swelling of the feet, prominence of small veins in the legs, mental confusion, and depression.Carbidopa-levodopa (Sinemet), a drug that is very effective in treating Parkinson's disease, rarely helps MS but may be tried to control hand tremor if other drugs fail.Trihexyphenidyl hydrochloride (Artane), one of the old standard drugs used for Parkinson's tremor, may help tremor of MS if used in high doses. High doses, however, cause dry mouth, memory difficulties, and sometimes confusion.Isoniazid is used in treatment of tuberculosis, but it is also known to help hand tremor in some MS patients. I have tried this drug with patients without any success.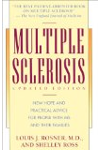 More About this Book
Multiple Sclerosis
Too often, multiple sclerosis is thought of only as "the crippler of young adults." But in fact, 75 percent of all people with MS will never need a wheelchair. In Multiple Sclerosis, Dr. Louis J....
Continue Learning about Multiple Sclerosis Treatment