A typical state in those who stay on steroid treatment for a long period of time is called the Cushingoid state, named for Dr. Harvey Cushing. It includes a moon face, a prominent dowager's hump at the lower neck and upper back, and purple streaks on the skin of the abdominal wall.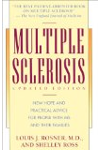 More About this Book
Multiple Sclerosis
Too often, multiple sclerosis is thought of only as "the crippler of young adults." But in fact, 75 percent of all people with MS will never need a wheelchair. In Multiple Sclerosis, Dr. Louis J....
Continue Learning about Multiple Sclerosis Treatment