Cobra and other snake venoms are treatments in search of a disease. This strange therapy has been proposed for a variety of mystery illnesses such as lupus, herpes, muscular dystrophy, amyotrophic lateral sclerosis, and multiple sclerosis (MS). The use of cobra venom has been traced back to a person who suffered neurological symptoms after being bitten by a snake. This led researchers to wonder if snake venom had other effects on the stimulation of the nervous system. Clinics popped up everywhere and some still exist, although it is widely accepted that cobra venom has no beneficial effect in MS or any other disease.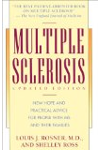 More About this Book
Multiple Sclerosis
Too often, multiple sclerosis is thought of only as "the crippler of young adults." But in fact, 75 percent of all people with MS will never need a wheelchair. In Multiple Sclerosis, Dr. Louis J....
Continue Learning about Multiple Sclerosis Treatment