Heparin, an anticoagulant that decreases blood clotting, was first tried in 1959 in the treatment of acute multiple sclerosis (MS) attacks and chronic stages. But neither disease progression nor the attacks were reduced.

Clofibrate (Atromid-S), an agent that reduces fat and cholesterol in the blood, was tried in a twenty-month controlled study of MS patients. Results from the experimental group were, for the most part, the same as from the control group.

In 1947 a neurologist reported that another anticoagulant, dicumarol, helped reduce MS attacks. But another study five years later showed no benefits from the treatment. Today dicumarol is considered ineffective and dangerous, as it is known to have caused fatal hemorrhages.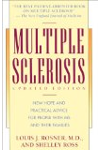 More About this Book
Multiple Sclerosis
Too often, multiple sclerosis is thought of only as "the crippler of young adults." But in fact, 75 percent of all people with MS will never need a wheelchair. In Multiple Sclerosis, Dr. Louis J....
Continue Learning about Multiple Sclerosis Treatment