Testing for sensory loss and weakness in face, tongue, and throat is done by touching with cotton and a pin and by watching the muscles move. Facial movements are also observed as the patient is asked to smile, pucker the lips, puff the cheeks, wrinkle the nose, squeeze the eyes closed, and elevate the eyebrows. The doctor may find sensory loss or weakness on one side of the face, but neither is diagnostic of multiple sclerosis (MS) unless combined with other, more typical signs. Numbness and weakness of the back of the throat are tested in two ways: when the patient is asked to say "ah" and when the gag reflex is checked with a tongue depressor. This, along with numbness and weakness of the tongue, is rare in MS and more suggestive of some other disorder.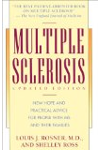 More About this Book
Multiple Sclerosis
Too often, multiple sclerosis is thought of only as "the crippler of young adults." But in fact, 75 percent of all people with MS will never need a wheelchair. In Multiple Sclerosis, Dr. Louis J....
Continue Learning about Multiple Sclerosis Treatment