The hyperbaric oxygen chamber (HBO) has been in the news as pop star Michael Jackson's answer to the fountain of youth. He allegedly uses it to prevent aging. Originally used as an effective therapy for "the bends" - the aftereffect of too-rapid ascent from deep-sea diving - HBO replaces nitrogen bubbles in the blood with oxygen. Through the years HBO has also been effectively used in treatment of burns and gas gangrene.
In the past few years, this device has been touted as beneficial in treatment of memory
loss, mental deterioration, and Alzheimer's disease. Some slight improvements have been reported with that condition but without lasting benefits. Patients became slightly more alert while in the oxygen chamber and also experienced a feeling of euphoria.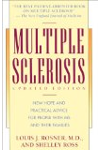 More About this Book
Multiple Sclerosis
Too often, multiple sclerosis is thought of only as "the crippler of young adults." But in fact, 75 percent of all people with MS will never need a wheelchair. In Multiple Sclerosis, Dr. Louis J....
Continue Learning about Multiple Sclerosis Treatment