The heat box, fever therapies, and blood vessel dilators, called vasodilators, work on the principle of increasing blood flow or decreasing viscosity. Hydergine, amyl nitrite, aminophylline, papaverine, alcohol, diphenhydramine, benzazoline hydrochloride, belladona, and tetraethylammonium are among the many vasodilator drugs tried unsuccessfully over the years in the treatment of multiple sclerosis (MS).
In MS, histamine therapy was widespread for about fifteen years. Histamine is a chemical found in the body that alters the size of the blood vessels. Today we are more familiar with its effective use in treatment of allergies. The first MS trial, in 1944, was heralded as a success. Even though it was uncontrolled, doctors reported recovery in 75 percent of acute attacks and improvement in 46 percent of chronic cases. Later, however, a controlled test showed no improvements.
Circulation stimulants that raise blood pressure were also tested in the treatment of MS. The list of stimulants includes caffeine, alcohol, ephedrine, adrenocortical extract, desoxycorticosterone acetate (DOCA) and neostigmine. In all, forty cases were studied and some appeared to have good results, but no exact statistics were ever furnished.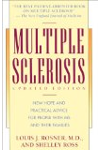 More About this Book
Multiple Sclerosis
Too often, multiple sclerosis is thought of only as "the crippler of young adults." But in fact, 75 percent of all people with MS will never need a wheelchair. In Multiple Sclerosis, Dr. Louis J....
Continue Learning about Multiple Sclerosis Treatment