The most exciting area in multiple sclerosis (MS) therapy today is the immune system. The evidence for involvement of the immune system is overwhelming, and the laboratory tests for measuring abnormalities are very sophisticated. Researchers can now successfully test spinal fluid to see whether or not a specific treatment is affecting the immunological abnormality.
As early as 1927, the immune system was suspected of causing MS lesions. Today this theory remains one of the most aggressive areas of research as scientists explore various immune reactions that might be the culprits. Various treatments are based on exciting new immune system research uncovered in the past ten years.
The attempt to alter the course of the disease through the treatment of the immune system still remains the greatest hope for the future. The disease-modifying treatments using interferons and monoclonal antibodies will become more and more effective. The use of cortisone drugs and ACTH has stood the test of time in treating the acute attack. Long-term steroid treatment is not recommended because it suppresses the immune system so indiscriminately that it leaves the patient with an increased susceptibility to infections, some life-threatening.
The list of possible treatments includes the latest strategies for using immunosuppressants, immune system modifiers, immune system desensitization, along with the latest information on promising new drugs, transfer factor, interferon, monoclonal antibodies, copolymer-1, desensitization to myelin basic protein, and plasmapheresis.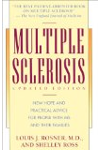 More About this Book
Multiple Sclerosis
Too often, multiple sclerosis is thought of only as "the crippler of young adults." But in fact, 75 percent of all people with MS will never need a wheelchair. In Multiple Sclerosis, Dr. Louis J....
Continue Learning about Multiple Sclerosis Treatment