Two different mechanisms are at work with steroids. First, steroids decrease antibody production by the immune system. If a "bad" antibody is at work, as current theories suggest, steroids may bring the patient out of the attack quickly. Second, steroids act locally to reduce the swelling and inflammation of myelin. They may improve nerve conduction in the demyelinated area by chemical changes such as increasing the nerve cell's potassium and decreasing the sodium levels.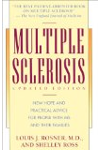 More About this Book
Multiple Sclerosis
Too often, multiple sclerosis is thought of only as "the crippler of young adults." But in fact, 75 percent of all people with MS will never need a wheelchair. In Multiple Sclerosis, Dr. Louis J....
Continue Learning about Multiple Sclerosis Treatment