If you browse online, it's easy to find companies around the world researching, developing, and offering treatment with stem cells. People with multiple sclerosis (MS) are seeking stem-cell treatment everywhere from Holland to China, and their testimonials are readily available. One woman interviewed by the BBC said she was able to walk for the first time in thirty-three years. Another company publishes a rating list of observable improvements (from 1 to 20), including many patients who show zero improvement. It is impossible to vet each claim for a treatment that is so new and a disease that is so difficult to predict. And on many of these sites, there is information like this example that can dazzle:
Other research has identified, among the many different types of stem cells, one particular type as being especially promising in the treatment of MS. Known as "CD34(+)9" these are purified multipotent stem cells known for their ability to migrate to damaged tissue. Related to the CD34(+) stem cell is the "subset" known as the "CD133" stem cell, which has been shown to balance the immune system and to differentiate into neuroprotective glia as well as the oligodendrocytes and astrocytes which produce myelin. Such characteristics make the CD34(+) stem cells a particularly potent treatment not only for immune disorders but also in the remyelination of central nervous system diseases. Since MS falls under both categories, these particular stem cells offer great promise for the treatment of MS.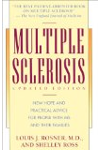 More About this Book
Multiple Sclerosis
Too often, multiple sclerosis is thought of only as "the crippler of young adults." But in fact, 75 percent of all people with MS will never need a wheelchair. In Multiple Sclerosis, Dr. Louis J....
Continue Learning about Multiple Sclerosis Treatment