Treatment for spasticity—abnormal muscle tone—in multiple sclerosis (MS) is a stretching program, which addresses the specific muscles that have become stiff. While medications to further alleviate the spasticity are sometimes necessary, a regular exercise program that keeps the joints moving is key in preventing joint contractures and assisting in freedom of movement.
In severe spasticity cases, where physical therapy, medication, and relaxation techniques have failed, more drastic procedures may be indicated, such as dorsal-column stimulation, injection of phenol into the nerves, and surgery. Dorsal-column stimulation, successfully used in the past for pain relief, is now also used to reduce spasticity in multiple sclerosis (MS). With this technique a device is implanted directly on the spinal cord, and spasticity is interrupted by electrical stimulation. This is a major surgical procedure that involves some tampering with the spinal cord and the possibility of increased spinal cord damage with prolonged use. Its success remains unproved.Injection of phenol into one or more nerves of spastic limbs has been used mainly in cases where the aductor muscles of the thighs are so spastic that the legs cannot be pulled apart. These phenol "blocks" usually last about six months. Finally, in the most severe cases of spastic legs, surgery is sometimes used in which the tight muscles or involved nerve roots are cut. These drastic measures are rarely needed or used in MS but are available for the bedridden patient seeking relief.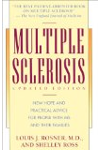 More About this Book
Multiple Sclerosis
Too often, multiple sclerosis is thought of only as "the crippler of young adults." But in fact, 75 percent of all people with MS will never need a wheelchair. In Multiple Sclerosis, Dr. Louis J....
Continue Learning about Multiple Sclerosis Treatment