There are many antidepressants on the market that restore the brain's normal chemical balance by slowing the removal of certain chemicals called neurotransmitters. Serotonin and norepinephrine are the two chemicals antidepressants target. Most medications work gradually and after about six weeks the doctor can evaluate the dose and decide to add another medication or prescribe a different drug. It is trial and error and, needless to say, a challenge to tailor the right treatment to each patient.
Older antidepressants such as amitriptyline (Elavil), imipramine hydrochloride (Tofranil), doxepin (Sinequan, Adapin), alprazolam (Xanax), trazodone hydrochloride (Desyrel), and amitriptyline with chlordiazepoxide (Limbitrol) are effective.
But a newer group of antidepressants known as SSRIs are gaining in popularity because they tend to have fewer side effects. The SSRIs, selective serotonin reuptake inhibitors, include fluoxetine (Prozac), sertraline (Zoloft), fluvoxamine (Luvox), paroxetine (Paxil), escitalopram oxalate (Lexapro), and citalopram (Celexa). And in the late 1990s, a new group of drugs, SSRNIs, were developed to target both serotonin and norepinephrine levels. Popular SSRNIs include duloxetine (Cymbalta), venlafaxine (Effexor), and nefazodone (Serzone). Additional newcomers, unrelated to the other antidepressants, include bupropion (Wellbutrin) and mirtazapine (Remeron).
The most common side effects of the newer drug include sexual problems, headache, insomnia, jittery feelings, and weight loss or gain. As people with multiple sclerosis (MS) learn all too quickly, few medications are without side effects. Again, each patient must weigh the benefit against the side effects. For some, talk therapy is a better course. For many, antidepressants can work like a miracle.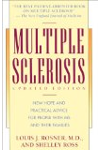 More About this Book
Multiple Sclerosis
Too often, multiple sclerosis is thought of only as "the crippler of young adults." But in fact, 75 percent of all people with MS will never need a wheelchair. In Multiple Sclerosis, Dr. Louis J....
Medication can be used to treat depression in people with multiple sclerosis (MS). Your MS doctor, primary care doctor or psychiatrist can prescribe and monitor medication to treat depression. Factors including convenience, visit frequency and severity of depression may be considerations for determining the most appropriate provider for offering depression care. Sometimes referral to another provider with expertise in addressing your unique needs is needed.
Some people worry about the side effects of medication used to treat depression in people with multiple sclerosis (MS), such as weight gain, sexual dysfunction and drowsiness, or about adding new medication to already complex MS treatment regimens. These concerns are legitimate and should be discussed explicitly during healthcare visits.
Of note, some medications used for depression can actually help manage MS symptoms. For example, some medications are effective at decreasing nerve pain common in MS. And while some depression medications facilitate sleep in those suffering insomnia, others can assist in promoting wakefulness and stamina. Again, honest communication with your healthcare provider can help with identifying the best medications for you.
As with MS medications, always take depression medications as prescribed and inform a healthcare provider if problems develop. It typically takes several weeks or longer to determine a medication's effectiveness; dose adjustments and changes in medication may be needed to provide the most symptom relief.
Research has also found that cognitive ­behavioral therapy (CBT) is beneficial for a variety of multiple sclerosis (MS) ­related concerns, including depression, anxiety, grief and pain. CBT is an effective and widely practiced type of therapy. The basic premise of CBT is that emotions are influenced by cognitions (thoughts). When individuals have negative thoughts, they tend to experience greater despair than individuals with fewer of these thoughts. When people learn ways to balance their perspective, they often feel happier, more hopeful and less depressed, even when their situation remains unchanged.
Continue Learning about Multiple Sclerosis Treatment