Since the 1880s when Charcot tested the use of zinc phosphates, minerals have been used in therapies for multiple sclerosis (MS). Today essential minerals are combined with vitamin supplements. Zinc, still in use today, does activate T cells in the immune system, which can cause worsening of the disease. High zinc levels are also associated with low blood levels of copper and an MS-like condition called copper-deficiency myelopathy and neurological symptoms that are similar to MS.
Recently, one researcher reported a manganese deficiency in MS patients and advocated an increase in the consumption of buckwheat pancakes, a food rich in manganese. It certainly is not harmful, but there is no proof that adding manganese to the diet helps prevent MS attacks or slow worsening.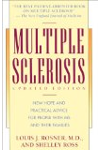 More About this Book
Multiple Sclerosis
Too often, multiple sclerosis is thought of only as "the crippler of young adults." But in fact, 75 percent of all people with MS will never need a wheelchair. In Multiple Sclerosis, Dr. Louis J....
Continue Learning about Multiple Sclerosis Treatment