The onset of new symptoms should be reported to the doctor, who will determine whether the symptoms are multiple sclerosis (MS)-related or not. If a new attack is beginning, resting at home is the best treatment. How much rest depends on the seriousness of the attack. In some attacks of weak legs, you should get off your feet for a few days. For numbness or tingling, take rest periods during the day, and avoid exercise or overexertion. With a visual attack, rest, avoid excessive heat, and smoking and drinking. (Smoking and drinking have not been definitely shown to worsen an attack, but you don't want to pass up any bets.) Rest the eyes by avoiding reading and television.
Rest is often very effective in shortening the attack. In twenty-seven years of personal experience, I have found that rest at the beginning of an attack can often bring a person out of that attack within a few days.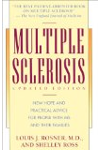 More About this Book
Multiple Sclerosis
Too often, multiple sclerosis is thought of only as "the crippler of young adults." But in fact, 75 percent of all people with MS will never need a wheelchair. In Multiple Sclerosis, Dr. Louis J....
Continue Learning about Multiple Sclerosis Treatment