Deep tendon reflexes (DTRs) are the involuntary jerks normally produced at certain spots on the limbs by tapping ten- dons with a reflex hammer. The examination will test for absent, diminished, exaggerated, or asymmetrical reflexes along with "pathological reflexes," which occur in the hand or foot only in abnormal situations. Reflexes commonly tested in the arm are those of the biceps (by tapping at the bend of the elbow), the triceps (by tapping at the back of the elbow), and the radial (by tapping at the side of the wrist). In the leg the reflexes tested include the knee jerk (by tapping below the kneecap) and the ankle jerk (by tapping the back of the heel cord). In the eye the blink reflex is tested by a wisp of cotton or puff of air.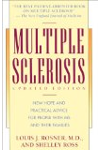 More About this Book
Multiple Sclerosis
Too often, multiple sclerosis is thought of only as "the crippler of young adults." But in fact, 75 percent of all people with MS will never need a wheelchair. In Multiple Sclerosis, Dr. Louis J....
Continue Learning about Multiple Sclerosis Treatment