Supplementing the diet with polyunsaturated fatty acids (PUFA) such as safflower oil, sun- flower seed oil, evening primrose oil, or linoleic acid has been investigated, rejected as a therapy, and investigated again. Many of my own patients have tried these supplements, some for as long as twenty years, without any success. Three scientifically controlled studies on large multiple sclerosis (MS) groups shows some slightly favorable effects that were first discounted by the National MS Society and then reconsidered. One study showed that the PUFA group had a slight reduction in frequency of attacks, and another study showed a reduction in severity of attacks. PUFA did not, however, show any overall effect on the progression of the disease. It has been suggested that some sources of PUFA, such as sunflower seed oil, are more beneficial than others, such as evening primrose oil. Although it seems unlikely that this is a cure, more studies are needed since such factors as the length of the study, the amount of PUFA, and the source of PUFA have varied.
PUFAs are commonly known now as omega-3 and omega- 6 fatty acids. Omega-3 is found in relatively high levels in fatty fish such as salmon, Atlantic herring, Atlantic mackerel, bluefin tuna, and sardines. Dietary supplements include fish oil, cod liver oil, flaxseed oil, canola oil, and walnut oil. A small study evaluated omega-3 supplements (fish oil) taken with interferons or glatiramer acetate. The study showed a decrease in relapse rate and improved physical and emotional functioning. Omega-6 supplements include sunflower seed oil, evening primrose oil, flaxseed oil, borage seed oil, black currant seed oil, and spirulina (blue-green algae.) Some of these supplements have provoked seizures on rare occasion. Some have blood-thinning effects. Some can cause a rise in triglyceride levels. Borage seed oil may be toxic to the liver. And spirulina supplements may contain bacteria and other contaminants. Those cautions aside, PUFAs have shown enough encouraging results over the years to warrant further clinical studies.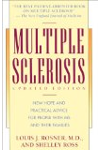 More About this Book
Multiple Sclerosis
Too often, multiple sclerosis is thought of only as "the crippler of young adults." But in fact, 75 percent of all people with MS will never need a wheelchair. In Multiple Sclerosis, Dr. Louis J....
Continue Learning about Multiple Sclerosis Treatment