Progurt is a yogurt product from Australia, newly available in the United States, that makes the following big claim online:
Progurt has improved the quality of life of sufferers of Multiple Sclerosis (MS). Progurt has been known to help long term sufferers of MS as well as those recently diagnosed. You may attain positive results within hours or days depending upon the severity of your condition. Progurt may eliminate or lessen the severity of the following symptoms of Multiple Sclerosis:
bowel and bladder dysfunction
cognitive function, including problems with memory, attention, and problem-solving
balance, dizziness, and vertigo
emotional problems and/or depression
fatigue (also called MS lassitude)
difficulty in walking and coordination problems
numbness or "pins and needles"
tremors
vision problems
hearing loss
headache
speech and swallowing disorders
seizures
itching
spasticity
They continue:
"People crippled with multiple sclerosis have become more mobile; diabetics have experienced improvement in circulation and general well being. We stress that Progurt is a health food, not a medicine... But the fact is that it has certain effects on the metabolism which can directly affect many health outcomes."
It is true that yogurt can give people a sense of well-being. And for many people taking MS medications that may be harsh on the intestinal tract, eating yogurt, with all its natural bacteria, is often recommended. But to date, we have not found any studies that show yogurt changes the course of MS or alleviates symptoms. There is certainly a growing interest in probiotics, foods and dietary supplements that contain trillions of helpful bacteria normally found in the body. These bacteria may assist with digestion and help protect the body against harmful bacteria. They are found not only in Australia's Progurt, but also in newer American products such as some store-bought yogurts and "Kombucha" teas.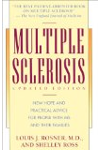 More About this Book
Multiple Sclerosis
Too often, multiple sclerosis is thought of only as "the crippler of young adults." But in fact, 75 percent of all people with MS will never need a wheelchair. In Multiple Sclerosis, Dr. Louis J....
Continue Learning about Multiple Sclerosis Treatment