This "magical" remedy is popular all over Europe. Procaine, or Novocain in oral form, is supposed to benefit many diseases from arthritis to cancer, Parkinson's disease, and arteriosclerosis. It is also supposed to prevent aging and sexual impotence or reverse these conditions. The most prominent promoter of this treatment is Dr. Anna Asian of Bucharest, Romania. Her clinic draws people from all over the world, including statesmen and celebrities who should know better. KH3 is not approved by the U.S. Food and Drug Administration (FDA), but it is believed that tablets are smuggled in from the West Indies and Mexico just the same. Although procaine is used effectively as a heart medicine, in local surgery, and in skin creams for local burns such as sunburn, there is no evidence it should be used for multiple sclerosis (MS).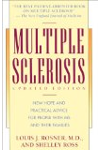 More About this Book
Multiple Sclerosis
Too often, multiple sclerosis is thought of only as "the crippler of young adults." But in fact, 75 percent of all people with MS will never need a wheelchair. In Multiple Sclerosis, Dr. Louis J....
Continue Learning about Multiple Sclerosis Treatment