There has been limited research, although one clinical study of a hundred people with multiple sclerosis (MS) showed those who took the mixture had a less severe disease course (Phytotherapy Research 1992, 6:133-136). The 100 subjects suffering from a primary-progressive form of MS were randomly divided into two equal groups. Group 1 received Padma 28, two tablets three times a day, and group 2, the control group, was treated only for symptoms. After one year, 44 percent of the patients taking Padma 28 showed positive results including improvement of general condition, increase of muscle strength, and decrease or disappearance of disorders affecting sphincters. In 41 percent of patients with initially an abnormal tracing of visual evoked potentials, an improvement or normalization was achieved. Of patients who did not receive Padma 28, none felt better; moreover, 40 percent showed a deterioration. Tolerance of the drug was excellent. No side effects were reported. Better studies are needed.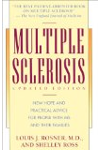 More About this Book
Multiple Sclerosis
Too often, multiple sclerosis is thought of only as "the crippler of young adults." But in fact, 75 percent of all people with MS will never need a wheelchair. In Multiple Sclerosis, Dr. Louis J....
Continue Learning about Multiple Sclerosis Treatment