Besides medications, other measures can be used to control hand tremor. First, try to stabilize the elbow of the arm being used by holding it with the other hand or propping it on the table or dresser when doing such activities as eating, brushing teeth, applying makeup, or writing. This can become second nature.In more severe tremor cases, surgical procedures are available that are also used in some cases of Parkinson's disease. A small lesion is made in the nucleus deep in the cerebral hemisphere. This may decrease or even completely relieve the tremor, but unfortunately the results show only for a short time. Tremors can return a few months later. Although there is hope that the operation will be perfected to produce more lasting benefits, I do not recommend it for multiple sclerosis (MS) patients at this time.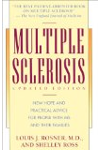 More About this Book
Multiple Sclerosis
Too often, multiple sclerosis is thought of only as "the crippler of young adults." But in fact, 75 percent of all people with MS will never need a wheelchair. In Multiple Sclerosis, Dr. Louis J....
Continue Learning about Multiple Sclerosis Treatment