Weakness of both legs may become a problem after many years with multiple sclerosis (MS). The usual situation is that the person can walk fairly well with a little support in the morning, but later in the day the legs are so tired that the person may need crutches or even a wheelchair. The best way to handle this difficulty is to understand your limits and organize your activities so that you can take rest periods during the day and avoid prolonged standing and walking. Good planning often makes it possible to avoid the end-of-the-day exhaustion completely and eliminates the need for a wheelchair.Still, the person whose legs are both weak should have a wheelchair on hand to use on such occasions as going out for a whole day or traveling long distances where too much walking may be necessary, thus avoiding the alternative of staying home. When traveling, plan ahead carefully. Call the airline in advance and ask for a chair to get to and from the plane. When touring, try to drive as close to the destination as possible to conserve your leg strength. This may sound so complicated that it might make you less eager to take trips, but once you have the hang of doing it this way, it becomes an easy routine to follow.Weakness in the hands is much more rare than leg weakness. When it does occur, the same basic principles of treatment apply. Don't exhaust or overuse the weak hand. Plan activities in order to conserve energy. If weakness is at the wrist, a lightweight splint can be used to help overcome it.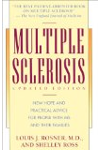 More About this Book
Multiple Sclerosis
Too often, multiple sclerosis is thought of only as "the crippler of young adults." But in fact, 75 percent of all people with MS will never need a wheelchair. In Multiple Sclerosis, Dr. Louis J....
Continue Learning about Multiple Sclerosis Treatment