While talking with the patient, the doctor is also evaluating the individual's mental state, noting especially the presence of emotional lability. At the same time, speech will be evaluated. The patient may later be asked to repeat certain standard phrases that may reveal problems with enunciation and rhythm. Slurring of speech and scanning speech are the important things to note, since they may indicate a brain stem-cerebellar lesion.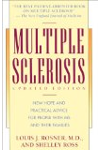 More About this Book
Multiple Sclerosis
Too often, multiple sclerosis is thought of only as "the crippler of young adults." But in fact, 75 percent of all people with MS will never need a wheelchair. In Multiple Sclerosis, Dr. Louis J....
Continue Learning about Multiple Sclerosis Treatment