The list of possible side effects should not frighten patients away from these very valuable drugs. In situations where they have to be used in long treatment, therapy every other day seems to help avoid bad side effects. And when used in a short course of two to six weeks, the benefits far outweigh the risks. Today, they remain the only quick scientifically proved way out of a new attack, which helps the patient avoid potentially permanent residual damage.

Steroid treatment is used in many diseases, including rheumatic disease, collagen disease, skin diseases, eye diseases, allergies, lung and some gastrointestinal diseases, blood disorders, some infections, and even some cancers.

For multiple sclerosis (MS) treatment, steroids are typically given in pill form, starting with a high dose for one or two weeks and then tapering off rapidly or slowly, depending on how severe the attack is and how quickly symptoms disappear. A typical course for optic neuritis (ON) is two or three weeks; a typical course for spinal cord symptoms is six weeks.

It is not good practice to stop the drugs suddenly if the patient has been using them for more than two weeks, because "steroid withdrawal" may occur. The patient may experience a drop in blood pressure, headaches, blurring of vision, lethargy, dizziness, lightheadedness, fainting, general weakness, and even a flare-up of the attack that was beginning to get better. If, however, the symptoms disappear in one week, the patient may be taken off steroids quickly without side effects.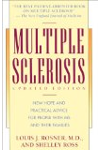 More About this Book
Multiple Sclerosis
Too often, multiple sclerosis is thought of only as "the crippler of young adults." But in fact, 75 percent of all people with MS will never need a wheelchair. In Multiple Sclerosis, Dr. Louis J....
Continue Learning about Multiple Sclerosis Treatment