In 1993, the first drug was released that could stop relapses and prevent the change from relapsing MS to progressive multiple sclerosis (MS). This was interferon beta-IB (Betaseron). Two years later, interferon beta-1A (Avonex) became available. And in 1996, the drug glatiramer (Copaxone) was added to the list. The outlook for early cases of MS was immensely improved. If put on one of these medications right away, a newly diagnosed patient stood a good chance of having infrequent or no relapses and never going into the progressive stage of the disease. Patients who have had relapsing-remitting MS for some time and are worsening could benefit greatly. Also magnetic resonance imaging (MRI) lesions of MS often were reduced or disappeared.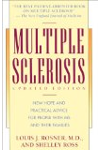 More About this Book
Multiple Sclerosis
Too often, multiple sclerosis is thought of only as "the crippler of young adults." But in fact, 75 percent of all people with MS will never need a wheelchair. In Multiple Sclerosis, Dr. Louis J....
Continue Learning about Multiple Sclerosis Treatment