Finally, it's important to note that when a cure is found it will help all people with multiple sclerosis (MS). There is good evidence that MS damage can be reversed, that nerve fibers can conduct again if the toxic agent is removed, allowing myelin to regrow, and if nutrients that may have leaked out through the myelin gap are supplied to nerve fibers. With MS research, there is good hope for old and new patients alike.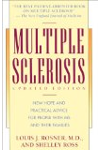 More About this Book
Multiple Sclerosis
Too often, multiple sclerosis is thought of only as "the crippler of young adults." But in fact, 75 percent of all people with MS will never need a wheelchair. In Multiple Sclerosis, Dr. Louis J....
Continue Learning about Multiple Sclerosis Treatment