Speech problems are not very common but they can be a source of great distress to patients when they do occur. Multiple sclerosis (MS) speech trouble consists of slurring or jerky rhythm. Disturbance of pronunciation or rhythm of speech is the last of Charcot's three signs, called dysarthria. It is rare and usually found in the more advanced disease. If part of a new attack, the speech problem may clear on its own, but if present for two or three months, a speech therapist is recommended. Both problems may be handled by talking more slowly and concentrating on careful enunciation. But the speech therapist will have a program specifically tailored to the individual problem. Retraining exercises, in which the patient analyzes the problem on audio tapes, often help correct it. The earlier the patient begins to monitor speech problems, the better the prognosis for correction.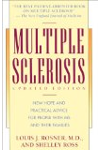 More About this Book
Multiple Sclerosis
Too often, multiple sclerosis is thought of only as "the crippler of young adults." But in fact, 75 percent of all people with MS will never need a wheelchair. In Multiple Sclerosis, Dr. Louis J....
Continue Learning about Multiple Sclerosis Treatment