While numbness, tingling and other sensory symptoms usually occur in temporary, short-lived attacks with the patient returning completely to normal, sometimes a patient needs treatment of symptoms and has prolonged periods of unpleasant tingling and burning sensations or tight-band feelings around the trunk or limbs. This problem is not a cause of disability but can be a major annoyance to the patient. If the symptoms become difficult to live with, medications are available for good relief.Nicotinic acid (niacin, one of the B-complex vitamins) is effective, prescribed in doses of 100-milligram tablets three or four times a day. Two antiseizure drugs, Dilantin and Tegretol, may cause balance trouble if the dose is too high but are safe and effective in small doses for sensory symptoms of multiple sclerosis (MS). Triavil, a combination antidepressant and tranquilizer, is effective, but it is usually only given at bedtime, as it can cause sleepiness.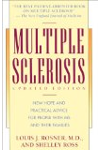 More About this Book
Multiple Sclerosis
Too often, multiple sclerosis is thought of only as "the crippler of young adults." But in fact, 75 percent of all people with MS will never need a wheelchair. In Multiple Sclerosis, Dr. Louis J....
Continue Learning about Multiple Sclerosis Treatment