Medications are used to effectively treat other forms of multiple sclerosis (MS). Currently there aren't any medications that have been approved for treating primary-progressive multiple sclerosis (PPMS). These medications are aimed at minimizing brain and spinal cord inflammation, which isn't typically associated with PPMS. However, there are several drugs being tested and a few that have even been submitted to the Food and Drug Administration (FDA) for approval. Unfortunately, none of them have shown great promise in treating PPMS.
There are 15 U.S. Food and Drug Administration-approved disease-modifying therapies for relapsing multiple sclerosis (MS), although five of these are in the same class (interferons).
The drugs that are typically used first-line (Avonex, Betaseron, Copaxone, Glatopa, Extavia, Rebif) have modest efficacy but good safety profiles; unfortunately, these medications are injectable. Plegridy is a newer drug, also a kind of interferon, but is only injected every other week. Zinbryta is an interleukin-2 receptor blocking antibody that has proven effective in cases where other treatments have not, but can cause damage to the liver among other adverse effects. Novantrone is an IV chemotherapeutic agent with seemingly good efficacy, but its use has been limited by issues with cardiotoxicity and leukemia. Tysabri, a monthly IV infusion, offers strong efficacy, but the risk of a viral infection of the brain limits its use somewhat. A similar drug, Lemtrada, has a danger of strong autoimmune reactions and must be administered with staff available to treat these reactions up to two hours after infusion. Gilenya was the first oral disease-modifying therapy approved for MS. However, its use requires significant monitoring, and its long term safety is not yet completely defined. Approval soon followed for two other oral medications for MS, Aubagio and Tecfidera. The newest MS drug, Ocrevus, is also given by IV infusion, and is the first drug FDA-approved to treat primary progressive multiple sclerosis.
Care of a person with MS does not end after choosing a disease-modifying agent. For many, that is just the beginning. Symptomatic management is also very important in MS care, and it often requires a multiple-disciplinary team to deliver. This team often includes nurses; physical, occupational and speech therapists; psychologists and psychiatrists; urologists; ophthalmologists; and physiatrists (physical medicine and rehab doctors). There is good data that appropriate exercise is beneficial for MS, and some people can achieve huge advances in function with the assistance of a qualified rehabilitation team and appropriate assistive devices.
Early treatment of primary symptoms of a disease is very important both for symptom relief and the prevention of secondary symptoms. Secondary symptoms can be troublesome and can have serious consequences. When new or returning symptoms occur, it is important to report them to your healthcare provider so that they can start helping you manage the problem and prevent complications.
First, treatments of multiple sclerosis (MS) don't stand the test of time. If they were effective, they wouldn't fall by the wayside from year to year. Second, they don't hold up to scientific scrutiny. Basically there is only one proper way to evaluate a proposed treatment—a double-blind control study. A double-blind control is a study in which two groups of patients are started in a program at the same time. One group gets the treatment and the other gets a placebo—an inactive pharmaceutical substance given to compare the effect of the "real" treatment on trial. Neither the patient nor the doctor knows who got the real treatment and who got the placebo until the end of the study.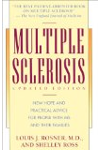 More About this Book
Multiple Sclerosis
Too often, multiple sclerosis is thought of only as "the crippler of young adults." But in fact, 75 percent of all people with MS will never need a wheelchair. In Multiple Sclerosis, Dr. Louis J....
While there have been disease-modifying therapies for multiple sclerosis (MS) since the early 1990s, there has been a tremendous amount of MS research and clinical trials in recent years. There are now injection treatments, pill treatments and infusion treatments for the relapsing forms of the disease. Further treatments will likely be approved in the next several years. A less common form of MS, called primary progressive MS (where people don't have relapses), still does not have an approved treatment. There are ongoing clinical trials for PPMS.
While there is still no cure, medications have made a real difference in reducing relapses and disability progression for many patients.
Because MS is such as variable disease, treatment for each patient is highly individualized. For most patients, treatment is likely to include some combination of medications. These include:
Drugs that modify the course of the disease. Medications currently approved by the Food and Drug Administration are beta interferons including Avonex®, Betaseron®, and Rebif®; glatiramer acetate (Copaxone®); natalizumab (Tysabri®); and mitoxantrone (Novantrone®).
A variety of therapies that alleviate the daily symptoms of MS (fatigue, depression, bowel and bladder problems, pain, numbness, tingling, stiffness, spasms, cognitive problems, weakness and sexual problems) are integral to the treatment of MS.
Intravenous anti-inflammatory corticosteroids can hasten recovery from acute relapses.
Continue Learning about Multiple Sclerosis Treatment