A basic hearing test is conducted in a sound-controlled booth with earphones and involves an audiometer. This screening tool will produce a range of tones that vary in pitch and intensity. Your response to these tones can help determine the degree, type and pattern of your hearing loss. The degree of hearing loss refers to the intensity level required to detect a given sound. The type of hearing loss refers to the likely location within the auditory system that is causing the problem. Losses may also be classified as central auditory processing (CAP) disorders, which are then assessed by additional testing. Finally, the pattern refers to the attributes of a hearing loss, such as whether it is a high frequency or a low frequency hearing loss, or whether the loss is in one ear or both ears.
The hearing is tested with a tuning fork at the bone behind the ear and at the outside of the ear opening. Decreased hearing is very rare in multiple sclerosis (MS). Such a finding mandates further tests to rule out other diagnoses.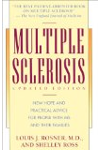 More About this Book
Multiple Sclerosis
Too often, multiple sclerosis is thought of only as "the crippler of young adults." But in fact, 75 percent of all people with MS will never need a wheelchair. In Multiple Sclerosis, Dr. Louis J....
Continue Learning about Multiple Sclerosis Treatment