Your search for "Dr. Right" is important, and you may try out a few relationships before you settle down. The ideal doctor is someone who practices medicine as both a science and an art. This means a doctor who keeps on top of the research and who listens to your symptoms to find a treatment for each and every one. You need a doctor who is available to talk to you when a newspaper or T V station makes some dramatic statement about multiple sclerosis (MS). You'll need to know if each new discovery or breakthrough is legitimate.Finding such a person is not that easy. At the university or teaching hospital, you'll find top scientists who are doing original research in MS but who don't have the time to get to know the patient well or deal with the daily problems of MS. The doctor in private practice may have the compassion and the right bedside manner but be out of touch with the latest developments. Which doctor you pick depends on your situation. The best bet for the newly diagnosed, the benign case, or one in long remission is to find a good neurologist in private practice. If the attacks are more frequent or a downhill slide begins, and the regular doctor has run out of ideas for treatment, then it's time to find a doctor at a university medical center.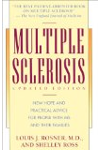 More About this Book
Multiple Sclerosis
Too often, multiple sclerosis is thought of only as "the crippler of young adults." But in fact, 75 percent of all people with MS will never need a wheelchair. In Multiple Sclerosis, Dr. Louis J....
Continue Learning about Multiple Sclerosis Treatment