In an optic neuritis attack, the doctor looks for particular findings. Visual acuity, or sharpness, is tested by means of the eye chart. It will be decreased in the affected eye. The fields of vision are tested when the patient is asked to look straight ahead and to indicate when an object comes into view from each side. This may reveal right or left hemianopsia or show an abnormal blind spot (scotoma) in the center of vision or off to the side. The optic nerve is examined by the ophthalmoscope, which enables the doctor to look at the back of the eye. With multiple sclerosis (MS), the optic nerve may appear pale, red, or swollen. Finally, the pupils are checked for appearance and reaction to light and focusing, both close and at a distance.
Eye movements are examined by having the patient look to the right and to the left and up and down. Two abnormalities may be seen that typify MS. One is nystagmus, the involuntary jerking of the eyes as they gaze in different directions or sometimes even at rest. The second is weakness of the eyes, more of one eye than the other, in looking to one side. This asymmetrical gaze weakness is called internuclear ophthalmoplegia. Internuclear ophthalmoplegia indicates a brain stem lesion. Nystagmus points to either the brain stem or cerebellum or their connections to the inner ear.
Two rare signs, which also reveal MS involvement of the brain stem, are third-nerve palsy and Horner's syndrome, both of which show an eyelid droop on one side. In third-nerve palsy, there is also dilation of the pupil and weakness of all eye movements except looking outward. In Horner's syndrome, there is constriction of the pupil and no gaze weakness.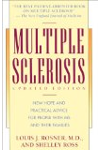 More About this Book
Multiple Sclerosis
Too often, multiple sclerosis is thought of only as "the crippler of young adults." But in fact, 75 percent of all people with MS will never need a wheelchair. In Multiple Sclerosis, Dr. Louis J....
Continue Learning about Multiple Sclerosis Treatment