Echinacea is one of several dietary supplements said to stimulate the immune system. Sold as a cold and flu preventive for years, the latest studies showed it is not effective in either preventing or lessening the severity of such viruses. In laboratories, echinacea has activated T cells and macrophages, which could theoretically worsen multiple sclerosis (MS). Therefore, it is not recommended. Also known to activate T cells are alfalfa, Asian and Siberian ginseng, astragalus, cat's claw, garlic, maitake mushrooms, mistletoe, shiitake mushrooms, stinging nettle, and melatonin.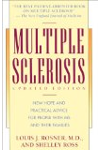 More About this Book
Multiple Sclerosis
Too often, multiple sclerosis is thought of only as "the crippler of young adults." But in fact, 75 percent of all people with MS will never need a wheelchair. In Multiple Sclerosis, Dr. Louis J....
Continue Learning about Multiple Sclerosis Treatment