Developed by a German physician, Dr. Joseph Evers, Evers diet treatment is based on the theory that multiple sclerosis (MS), like many other illnesses, is caused by eating unnatural foods. The Evers diet, therefore, consists of all raw, natural foods, plus wheat germ. Salt, sugar, and condiments are forbidden, as are salads, asparagus, and cauliflower. Only natural wines and brandies are permitted. No scientific evidence of the effectiveness of the Evers diet has ever been shown, though before his death in 1977, he treated more than 15,000 patients.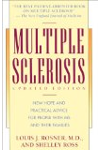 More About this Book
Multiple Sclerosis
Too often, multiple sclerosis is thought of only as "the crippler of young adults." But in fact, 75 percent of all people with MS will never need a wheelchair. In Multiple Sclerosis, Dr. Louis J....
Continue Learning about Multiple Sclerosis Treatment