Plasmapheresis is a procedure in which blood is removed from the individual, "cleansed" to remove the lymphocytes, and returned to the body. While the American Academy of Neurology has recently cast doubt on its usefulness in the treatment of multiple sclerosis (MS), there are occasional cases, one of which I have observed personally, that have shown dramatic positive results. This is a tedious and painful procedure to undergo because of the number and duration of the treatments. However, it is a treatment that has worked in desperate situations when all else has failed.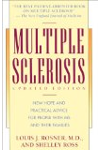 More About this Book
Multiple Sclerosis
Too often, multiple sclerosis is thought of only as "the crippler of young adults." But in fact, 75 percent of all people with MS will never need a wheelchair. In Multiple Sclerosis, Dr. Louis J....
A procedure designed to deplete blood plasma (the liquid part of the blood) without depleting the body of its blood cells, plasmapheresis has been used with some success as a treatment for progressive forms of multiple sclerosis (MS). It is thought that plasmapheresis may be beneficial because it removes all the immunoglobulins and other immune substances that are suspended in plasma.
Unfortunately, studies examining plasmapheresis in people with progressive forms of MS have had mixed results. Some people benefited, while others did not. Plasmapheresis also carries with it the same risks as any intravenous procedure. The risk of infection increases with the use of donor plasma, which may carry viral particles despite screening procedures.
At this time, there appears to be little evidence to support the use of plasma­pheresis as a first­line treatment for secondary­progressive MS or primary­progressive MS. The therapy is generally reserved for those suffering severe, acute MS attacks that don't respond to intravenous steroids.
Continue Learning about Multiple Sclerosis Treatment