In the 1970s, a Los Angeles vascular surgeon reported that his multiple sclerosis (MS) patients showed restoration of lost neurological functions after vertebral artery surgery. He explained that MS was due to clogging of the arteries in the vertebrae of the neck and that his findings before and after surgery would prove this. I was personally appointed by the National Multiple Sclerosis Society to interview the doctor and review his data. The arteriogram pictures he had were unreadable and the case studies disappointing. Although many patients claimed they had improvements, their postoperative exams showed no change in their conditions. In May 1987, the surgeon's license to practice medicine was revoked.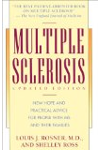 More About this Book
Multiple Sclerosis
Too often, multiple sclerosis is thought of only as "the crippler of young adults." But in fact, 75 percent of all people with MS will never need a wheelchair. In Multiple Sclerosis, Dr. Louis J....
Continue Learning about Multiple Sclerosis Treatment