Many alternative therapies haven't been proven to help. In this video, neurologist Charles Smith, MD, explains why you should avoid alternative or complementary therapies in lieu of traditional treatment.
Multiple sclerosis (MS) is a proliferative disorder of the efferent neurons where the signal degradation impacts motor function. Acupuncture, by working to stimulate nerve sensitivity, can help slow down the degenerative process and provide some relief. Usually it is focused on the affected area of the spine. You should expect long-term treatments with slow progress.
One study in 1997 revealed that 40 percent of people with multiple sclerosis (MS) had tried alternative therapies, half in combination with prescription medicine. As many as 60 percent of that group did not discuss this with their doctors. The list of tried-and-failed treatments is long, and not meant to be discouraging. In fact, this process of elimination has led investigators closer to the real answers. The "alternative" therapies that have stood the test of time, such as steroid treatment, have become the conventional therapies.
Acupuncture is a treatment of traditional Chinese medicine (TCM) that involves sticking slender needles into key points in the body to, in theory, release chi energy. Although the mechanisms of acupuncture are not fully understood by Western or Eastern doctors, there is some evidence that acupuncture causes the release of peptides in the central nervous system, that modulates sensory information traveling from the body to the brain. It is commonly used as an alternative treatment for some of the symptoms of multiple sclerosis, especially pain and spasticity. Acupuncture is usually viewed with considerable skepticism by the medical profession, but some qualified doctors do recommend it, especially for the pain associated with facial neuralgias (primarily trigeminal neuralgia). Strong claims have also been made for the help acupuncture provides easing numbness and neck pain. It may be that acupuncture is helpful for certain multiple sclerosis (MS)-related symptoms but not others. There are no side effects. However, it is recommended that acupuncture be used only in addition to conventional medicine and in consultation with your physician.
Almost fifty years ago a clinic in Switzerland pioneered cellular therapy for disease in which ground-up tissue from unborn animals was injected into patients. Those with heart trouble got ground-up heart tissue; for stomach trouble, ground-up stomach tissue. Multiple sclerosis (MS) patients received injections of ground-up fetal brain. Although no studies were ever conducted and one death has been reported, a few doctors, including one in Santa Monica, California, still use this treatment. It should be considered ineffective and possibly dangerous.
Today, with such breakthroughs in disease-modifying drugs, people with MS need to turn to alternative therapies less and less. However, some people with symptoms or progression that have not been helped with anything traditional medicine has had to offer believe in the philosophy of "try anything" for relief and well-being.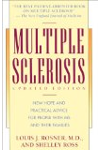 More About this Book
Multiple Sclerosis
Too often, multiple sclerosis is thought of only as "the crippler of young adults." But in fact, 75 percent of all people with MS will never need a wheelchair. In Multiple Sclerosis, Dr. Louis J....
Most alternative, or complementary, therapies can help improve overall well-being, which in turn can help improve symptoms of multiple sclerosis (MS). Very few have been specifically studied in MS. Of those studied:
Yoga has been proven to counteract the effects of fatigue and lift mood.
Low dose naltrexone is currently in studies and the results so far have been mixed in terms of fatigue, spasticity and pain.
Cannabis trials are also ongoing to determine its effect on pain and muscle spasms. So far, there has been no recommendation on its use in MS.
Electromagnetic therapy works with electricity and magnetic energy within the human body. Some studies have been done to evaluate the effects of electromagnetic therapy on people with multiple sclerosis (MS). Results showed improvements in spasticity, pain, bladder function, fatigue and vision.
Reflexology is the ancient practice of applying pressure to specific parts of the foot, and sometimes the hands, which are thought to correspond to specific glands, organs and other parts of the body. Anecdotal reports from individuals with multiple sclerosis (MS) who received reflexology indicate pain and tension relief, improved sleep patterns and bladder functioning, along with enhanced feelings of energy and well-being. Formal research studies of reflexology are needed.
Manual healing has been practiced for centuries, particularly in China and Egypt. It has often been used to alleviate stress, anxiety and pain, while incorporating the healing, comforting component of human touch. There have been few scientific studies evaluating the effects of manual healing on those with multiple sclerosis (MS), but those who have used it have claimed a reduction in anxiety, depression, headache, spasticity, stiffness and lower back pain. Others have cited increased self-esteem and improved body image.
Meditation can provide people with MS feelings of control, empowerment, relaxation and increased self-esteem. The muscle relaxation can also alleviate insomnia.
Massage therapy may improve self-esteem and social functioning, and reduce anxiety and depression.
"Biofeedback may have applications for multiple sclerosis (MS) related symptoms," writes Dr. Allen C. Bowling, MD, PhD, Medical Director of the Rocky Mountain MS Center. "For anxiety and insomnia, which may be significant problems in multiple sclerosis, biofeedback may be beneficial by promoting relaxation. It may also be helpful in treating some types of pain, although the use of biofeedback to treat MS-associated pain has not been formally documented." Spasticity, bladder and bowel incontinence, migraines, and neurological disorders may all respond to biofeedback.
Herbal remedies can have some effects when treating certain illnesses. It is important to note that they can interact with each other as well as prescribed medication. Most of these therapies contain more than one ingredient and are not federally regulated. Use caution when starting herbal therapies or mixing therapies.
It is good to check with your doctor before starting or combining alternative medications with your prescribed medications.
Continue Learning about Multiple Sclerosis Treatment