While immunosuppressants diminish the immune system response, other therapies change, or modify, the response. In earlier editions of this book, interferon treatment was listed in this chapter as a "new hope." It is now widely used with great success to alter the course of multiple sclerosis (MS). Here is the next wave of promising therapies.
FTY720*
FTY720 (oral fingolimod, from Novartis Pharmaceuticals Corporation) is a promising oral immune system modifier. A study in relapsing-remitting MS showed more than a 77 percent decrease in annual relapse rates after two years, compared with a placebo. The percentages of relapse-free patients and those without enhancing lesions on magnetic resonance imaging (MRI) were also notable, both greater than 80 percent. (*this has just received FDA approval.)
Laquinimod
Laquinimod is another oral immunomodulator under investigation. It is similar in structure to Roquinimex, a compound whose development was halted due to occurrence of serositis and myocardial infarction. Laquinimod inhibited the development of Experimental allergic encephalomyelitis (EAE) in mice. Patients with MS who participated in a twenty-four-week trial of the drug had a 44 percent reduction in the number of active lesions. In a forty-eight-week study, using a higher dose, 77 percent of patients remained relapse-free during the course of the study.
Rituxan (Rituximab)
Rituxan is a drug that targets B cells, the white blood cells that make antibodies. Researchers began recruiting volunteers with primary-progressive MS in 2006 after earlier, smaller studies showed promise. But since symptoms of primary-progressive MS often appear slowly, it will take a few years before this drug, and others in development for primary-progressive, can be evaluated.
BG000112
BG00012, an oral agent (fumarate from Biogen Idee), was recently studied in a multicenter phase II controlled clinical trial and produced a 69 percent reduction in active inflammation verified by MRIs of 257 people with a relapsing-remitting course.
Oral Teriflunomide
Oral teriflunomide, an agent that modulates T cells, was shown to reduce new lesions seen on MRI by up to 85 percent in a phase II study of 127 patients. A larger study is now underway.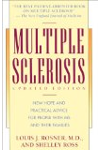 More About this Book
Multiple Sclerosis
Too often, multiple sclerosis is thought of only as "the crippler of young adults." But in fact, 75 percent of all people with MS will never need a wheelchair. In Multiple Sclerosis, Dr. Louis J....
Continue Learning about Multiple Sclerosis Treatment