Today, we can successfully treat attacks that are triggered by infection. Beyond that, many attempts have been made to find and prevent the action of an infectious agent that may be the cause of multiple sclerosis (MS) itself. If the "MS agent" is well hidden in the brain or spinal cord, its detection will be difficult. In the 1950s and 1960s, scientists attempted to treat MS with antibiotics. Before the widespread availability of penicillin after 1944, drugs used for syphilis were used to treat MS. More recently an antiviral agent, arabinoside-A, that is effective against the herpes virus was tested for MS. But because of its toxic effect on the kidneys it is not recommended.
Even though anti-infective treatments have failed in the past, they may still be the hope for MS treatments in the future. Today anti-infective agents, particularly antiviral agents, are being tried at some of the best research clinics in the world. Since there is strong evidence that MS may be caused by a "slow virus," or a common viral infection in childhood, these treatments remain under aggressive investigation.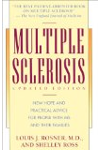 More About this Book
Multiple Sclerosis
Too often, multiple sclerosis is thought of only as "the crippler of young adults." But in fact, 75 percent of all people with MS will never need a wheelchair. In Multiple Sclerosis, Dr. Louis J....
Continue Learning about Multiple Sclerosis Treatment